AMEE News Item – 31/08/2023
A Legacy of Inspiration - AMEE 2023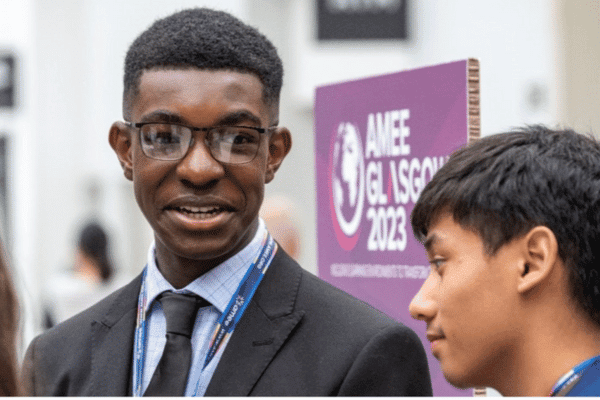 AMEE – The International Association for Health Professions Education launched the first edition of a brand-new student legacy programme involving S5 and S6 pupils from schools across Glasgow, Lanarkshire, and Ayrshire at the AMEE 2023 Conference.
Using Glasgow as the blueprint to launch the first edition of the initiative, AMEE will replicate and evolve the programme in future host cities of the conference for years to come.
1. Establishing a Student Legacy Programme
Recognising applications to medical school are on the decline, AMEE began the process of creating a dedicated programme that aims to give pupils the opportunity to learn more about possible career paths as a healthcare profession educator.
At a time when secondary school-aged pupils are being asked to decide on a career path, the challenge young people face is a lack of deeper insight into what a career involves. Many students jump straight to the conclusion of nurse, doctor or dentist – not knowing there is scope to go beyond the clinical level and actually teach these professions too.
This challenge is being addressed by AMEE with the launch of the Student Legacy Programme. The first edition kicked off at the SEC when AMEE invited students from across Glasgow to participate in the conference, with a programme created to provide them with the information needed at a stage when they are studying.
Partnering with the University of Glasgow, AMEE were able to tap into their network of schools, students, and colleagues in medical, dentistry, nursing, and veterinary medicine schools. Working together, they defined a plan to recruit pupils from low participation schools in Glasgow and surrounding areas.
2. The Recruitment Process
Invites were sent out to attendees of the University's Summer School programme, which consisted of S5/6 students getting ready to enter university. This gauged impressive interest, and with a limited number of spaces, it was decided to recruit one student from each school.
This gave each student a great opportunity to network with others in a similar position, with a shared interest in a career in healthcare.
In the end, the group of students were selected from Bellahouston Academy, Greenwood Academy, Boclair Academy, Hyndland Secondary School, St Ninian's High School, Hamilton Grammar School, Kilmarnock Academy, Prestwick Academy and St Thomas Aquinas.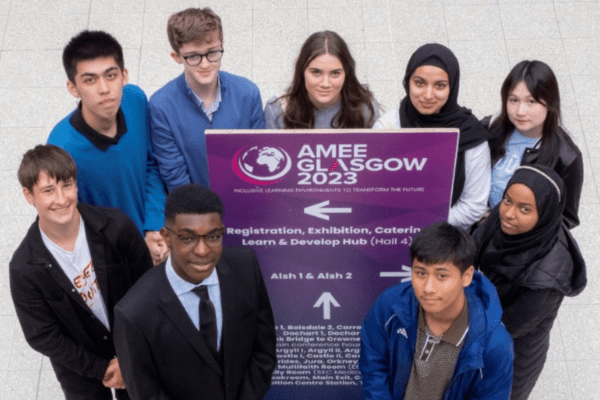 3. The Day
On the day, students got to experience a detailed programme full of inspiring sessions and exciting networking opportunities. 
The programme involved talks from key people including Anne Lloyd, CEO, AMEE, Jennifer Cleland, AMEE 2024 Programme Chair; and Dr Nana Sartania, University of Glasgow. 
There were discussions with the AMEE Student Task Force – which involves around 60 medical students from around the world who are a step ahead of the current students in the legacy programme – to provide valuable insight into their pathway so far, as well as discussions with senior AMEE members who are further along in their career.
The group participated in interactive sessions where they learned how medical education differs from country to country, and the characteristics that make an excellent healthcare professional.
Alongside useful icebreakers and networking breaks, sessions also included:
An Introduction to the AMEE 2023 Conference Programme
Exploring Health Careers: Behind the Scenes with Health Professionals
AMEE 2023 Orientation session for first-time delegates 
AMEE 2023 Opening Plenary 
4. Evolving the Programme for the Future
This first edition in Glasgow launched a programme that will now be evolved and enhanced annually, as AMEE plans to continue the student legacy programme in future host cities of the conference. 
AMEE is committed to maintaining regular communication with the students through emails, online discussion forums, and virtual meetings.  They will also establish a focus group to gather feedback and evaluate the success of the inaugural programme, beginning a journey that will grow the programme for years to come.
When AMEE returns to the SEC and Glasgow in five years, further evaluation will be conducted to assess the impact of the programme on the career paths chosen by the participants. 
Whether they venture into Health Profession Education, become practitioners, or pursue alternate avenues – we look forward to seeing the impact the programme has on these student's futures in healthcare and beyond.