AMEE FELLOWSHIP AND ASSOCIATE FELLOWSHIP
What is the AMEE Fellowship Scheme?
The AMEE Fellowship initiative was created to recognise members for their contributions to health professions education (HPE), and showcase their scholarship and leadership. AMEE members, who have the appropriate qualifications and evidence of scholarship listed below under each category, are warmly invited to apply for recognition as Fellows or Associate Fellows of AMEE and the right to use the post-nominals FAMEE or AFAMEE, as appropriate.
The goals of the AMEE Fellowship Scheme are:
The AMEE Fellowship Committee encourages health professions educators worldwide to advance their scholarship, strengthen the recognition of excellence at their own institution as well as the global HPE community, and to advance scholarship and career development among the next generation of educators.
Fellowship Committee Members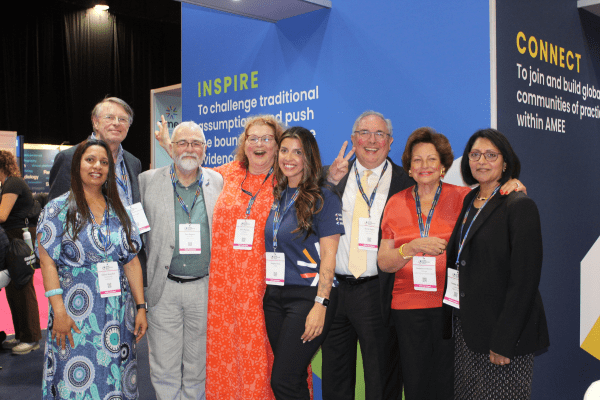 AMEE Associate Fellow Information & Application Form
I intend to be an associate Fellow of AMEE to become a more effective member of the medical education community and be able to join efforts with other colleagues around the world to creatively and effectively improve medical and health education both in Brazil and abroad
Current AMEE Associate Fellows
Joel King 
Leila Niemi-Murola 
Wee Shiong Lim 
Jonathan Rial 
Daniel Richard Kambey 
Elpida Artemiou 
Catherine Regan 
Tripti Srivastava
David Carr
Anita Laidlaw
Ugo Caramori 
Daniel Schumacher
Sima Sarvari
Sabine Nabecker
Meghana Sudhir
Rille Pihlak
Helen Henderson
Anouk Wouters
Gerard Flaherty
Mildred Vanessa López Cabrera
Marwa Schumann
Suleyman Yildiz
Harumi Gomi
Daniel Fernandes Mello de Oliveira 
Tharin Phenwan
Da-ya YANG
Saee Deshpande
Amnuayporn Apiraksakorn
Fan Lian
Juanying GUO
Ke He
Lena Sjoberg
Dario Cecilio-Fernandes 
Sarmishtha Ghosh
Hassaan Waqar
Marianne Mak-van der Vossen
Xun Hou
Mu-Xue Yu
Huanxiao Zhang
Dongjie Yang
Jianghui Liu
Jinyu Liang
Yujin Ye
Yinyan Lai 
JunXun Li 
G.M. (Clemens) Rommers
Lei Chen
Liang Yu 
Juan Liu
Hui Zhou
Yong Huang
Zhaohui Zhang
Haitian Chen
Jill Benson
Evangelos Papageorgiou (Vagelis)
Madeline Goldberg
Aikaterina Dima
Chantel van Wyk
Michael Healy
Shoaleh Bigdeli 
Anthonio Adefuye
Daniel Folger
Shaoting Feng
Man Shu
Irma Elisa Erana-Rojas
Rohini Karunakaran
Michael Ponsford
Cesar Lucio
Helen Church
Sara Reza
Li Feng
Nishan Silva
Yiyan Lei
Keke Wang
Sireesha Bala Arja
Shazia Iqbal
Hanaa Elhoshy
Wee-Ming Lau
Esther de Groot
Sengkhoun Lim
Mary Higgins
Irma Manjavidze
Salome Voronovi
Rima Beriashvili
Gaiane Simonia
Helen (Elene) Phagava
Asta Antila
Baseem Abdulhadi
Scott McCoombe
Osamu Nomura
Jennifer Benjamin
Eka Ekaladze
Paul de Roos
Ikuo Shimizu
Lynelle Govender
Megan Anakin
Gustavo Salata Romao
Satid Thammasitboon
Jiaxin Liu
Fatma A. Elkhamisy
Hebat Allah A. Amin 
Enjy Abouzeid
Kunsong Zhang
Patrick Corr
Hao Tang
Muhammad Imran
Azhar Adam Nadkar
Lela Maskhulia
Lara Teheux
Ho Hsien Hao Wilbert
Qin Zhou
Shuishen Zhang
Shuangjian Jiang
Maíra Loesch
Irine Pkhakadze
Kiyoshi Shikino
Chao Wu
Zi Ye
Yanlai Tang
Nikoloz Gongadze
Joana Berger-Estilita
Ana Shota Archvadze
Sophio Giorgadze
Tamar Giorgadze
Yingxiong Huang
Nada Hassan Ahmed Abdelrahman
Jilda Cheishvili
Eric Gantwerker
Komal Atta
Maia Okujava
Mohammed Ismail Khan
Chung-Hsien Chaou
Nan Zhang
Alexander Salava
Yunjian Zhang
Asmaa Abdel Nasser
Yannick G. Eller
Anne D. Souza 
Asmaa Abdel Nasser
Yunjian Zhang
Alexander Salava
Nan Zhang
Chung-Hsien Chaou
AMEE Fellow Information & Application Form
Becoming a Fellow of AMEE gives me the chance to communicate with educators from around the world and discuss new educational concepts
Rashmi Kusurkar  
David Taylor 
Poh-Sun Goh   
Subha Ramani  
Johnny Lyon Maris  
Daisy Rotzoll  
Morris Gordon
Chris Skinner
Ian Wilson 
Eeva Pyorala 
Martin R. Fischer 
Kichu Nair 
Carmen Fuentealba 
Margaret Chisolm 
Susan Van Schalkwyk 
Nayana Parange 
Elizabeth Kachur 
Ewa Szumacher 
Johan Bezuidenhout 
Anthony Artino 
Sateesh Babu Arja 
Riitta Moller 
Sonia Crandall 
Alice Fornari 
Tim Wilkinson 
Julie Hunt 
Chaoyan Dong 
Lynne Allery 
Samar Aboulsoud 
Marjo Wijnen-Meijer  
Sören Huwendiek 
Peter de Jong 
Helena Filipe 
Samy Azer 
Aimee Gardner 
Neil Osheroff 
Ayelet Kuper 
Zhimin Jia 
David Taylor 
Yu-Che Chang 
Michael Wan